Helping Investors to Scientifically Pick the Top 1% of Property Investment Hotspots
Boomtown is an innovative property research app that you can use on your phone or desktop.
Have you ever found yourself wondering how the most successful investors seem to pick the best locations at the beginning of an upswing?
Do you spend hours feeling frustrated trying to make sense of the barrage of online property data?
How do you know you are about to make a sound investment in a location that will deliver the results you need to build wealth?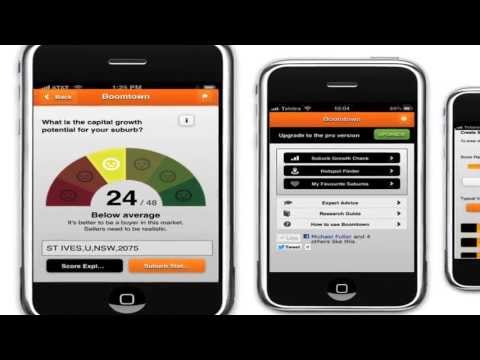 BOOMTOWN QUICKSTART TOUR.
Watch the Boomtown Quickstart Tour. Discover how you can quickly verify a suburb's capital growth potential and find your own investment hotspot with ease using unbiased property supply and demand indicators. At last, property investing has become as much a science as an art.
It's very powerful and a global first.

Open Boomtown
You only have a few chances to get it right!
Boomtown was designed to help investors quickly cut through all the well-known property data across most of the online sources and find the hottest investment locations before trawling the property portals.
For the first time in Australia – and possibly in the world – investors can now get a single view of all the relevant statistics for over 15,000 suburbs. The software analyses eight recognised property statistics and gives each suburb a single 'super score' based on how well they compare.
Boomtown doesn't just make picking the hottest suburbs easy, it makes complex research easy for all investors: the power of 'big data' and algorithmic computation in your pocket.
Just some ways Boomtown makes property investment easier.
Forget about searching through multiple websites. With Boomtown, you'll find all
the information right where you need it at the touch of a button.
Save time and reduce frustration. No more trawling the internet trying to make sense of all the information.
Get into an area before the crowd follow. Boomtown makes it easy to quickly pinpoint those suburbs set to explode before everyone else comes in pushing up the prices.
Boomtown shines a light on those suburbs with the greatest discounts and rentals yields and where demand is beginning to grow relative to supply.
Ever wondered which location is best for renovating to hold? Maybe you are looking for cash flow positive properties in areas with the greatest growth potential? No Problem!
Boomtown makes sense of all the data. One single score for each suburb tells you how likely it is to grow and how it compares to other locations.
Boomtown tells you which data is most accurate as not all property data suppliers are equal at any given time. Quality fluctuates and your decision depends on knowing which data you can trust and when.
Newbie or seasoned expert? Boomtown makes it easy to understand all property data and gives you the level of detail and explanation you need.
Our data is referenced by TENS of THOUSANDS of investors and industry professionals every month. Now you too can trust it to help you make smarter, more profitable investment decisions while reclaiming your weekend.
"Boomtown…powered by the DSR Score …provides a handy way to quickly identify the country's hottest suburbs without spending countless hours searching, sorting and analysing vast amounts of property information. Get the App … Free Hotspot Reports … or recommended Hotspot Properties."
Get Boomtown Here